I am so glad I joined an entrepreneurial community that taught me how to get a WIN for the day.
You are asking, "what am I talking about a WIN for the day?"
Before leaving for vacation I would make a list of the things that I needed to get done. Which would guide me through the day and check off everything hopefully.
My entrepreneurial community, Young Entrepreneur Project, showed me how I could do this in order to get the most important things done for my business.
My Power List
My Power List is NOT a To Do List as you might think. I write down 3-5 of the most important things I need to get done for the day for my business. The Power List is really only for my business.
When I first learned about this method, it made total sense to me. As I stated in the beginning, leaving for vacation I had a list to get done before leaving. That was everything that needed to get done. This is concentrating on my business. And let's face it, if business isn't good usually there are no vacations!!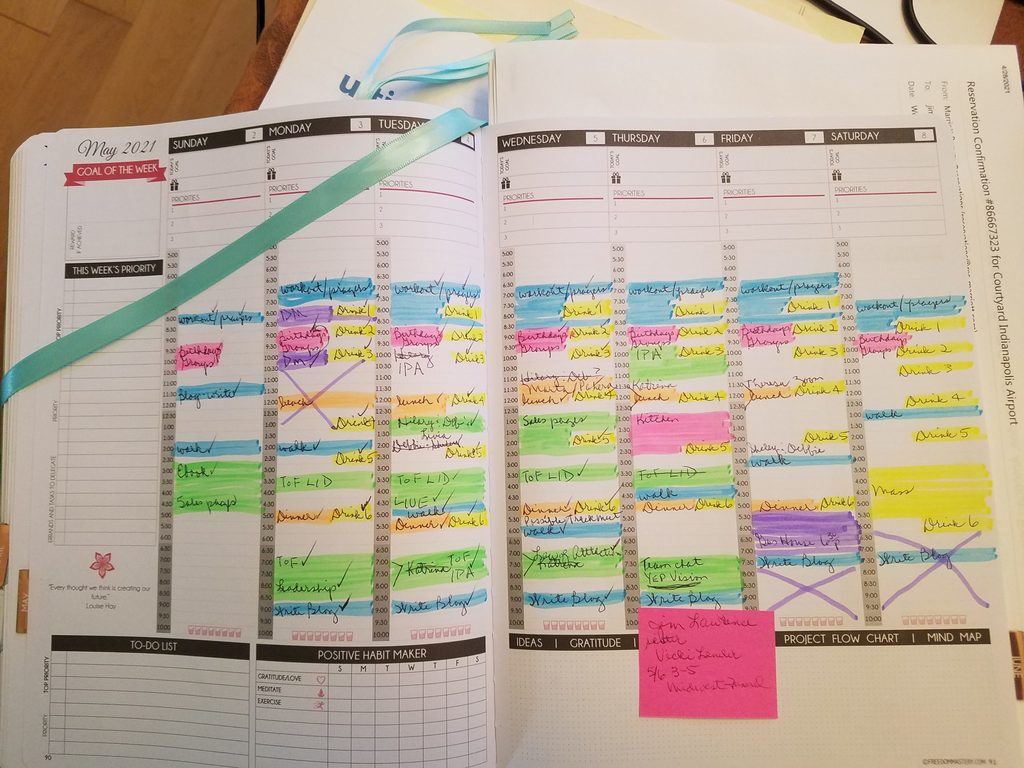 My Dual List
As you can see, this is my calendar, day planner. When I started doing the Power List, it was in a separate notebook. It didn't take long for me to realize I was looking in 2 different places to get things done.
Light bulb moment of putting everything on my calendar. By everything I am talking business and personal. It made my day even flow easier.
Oh, you are noticing the colors! Yes, along with learning the Power List, I also learned about time blocking.
Time blocking is putting what needs to get done and how long it will take. Different colors mean different things, business and personal.
So, not only a Power List with time blocking, it is colorful to look at. Actually for me having the colors makes it fun to get things done.
Because there were days I would be working, sitting for hours, I forgot to eat. Now even my meals get put on there. It is my colorful day at a glance and only one place to see everything and check things off as they get done.
That is how I get a WIN for the day. The more WINs I have it means I am moving forward as it should be.
To Your Success,
Deb