Yay, the clouds are getting darker. In the distance you can here the thunder. My husband checks the weather station. Do all guys do that!? He tells me it should be here in about a half an hour. I just smile as I know it will or will not get here when it is suppose to.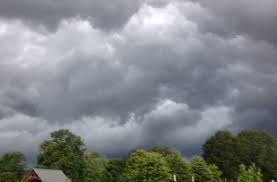 No Severe Warnings
This is going to be just a nice thunderstorm. So far there is no lightning. The rain starts to fall and the wind picks up just a little.
I am cleaning today and can't sit and watch it roll in. When our children were smaller and afraid of the storms, we would either sit on the porch, if possible, or lie in bed, if it was happening at night, and look out the window. As the storm got louder and the rain heavier, we would discuss what was happening and they were safe. I actually miss those moments.
Even as the grandchildren started coming, if they were spending the night or just over for the day, I would do the same thing. Hopefully helping them not be afraid and learn a little something too.
However, it is just my husband and I today with this storm. The thunder is getting louder and more frequent. The rain is also coming down harder. There it is! The first streak of lightning!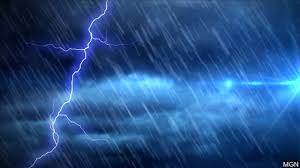 The rain is coming down pretty hard now. The lightning is coming a little faster as the storm really moves actually overhead now.
I don't like being on the computer while it is storming just in case the power goes out. I would be lost without my computer. So yes I am typing this after the storm has passed!
We have not really had a good thunderstorm with much lightning at all this summer yet. Well, here it is and I am enjoying listening as I clean.
My husband informs me of the time the sun should be out in about 90 minutes.
Oh this is so great, listening and knowing the grass and plants are loving it. We haven't had much rain for about a month now.
Yes, the storm is moving passed but not too fast. Even as the storm moves away the thunder and lightning can be seen and heard.
And then it was gone! The rain has stopped and the sun is out. It has been exactly 90 minutes! Yes, he announced, "the sun is out right at 1pm when the map stated it would be out!" I just smiled.
To Your Success,
Deb