It was suggested in the Ultimate Blog Challenge to do a book review.
It struck me with a little giggle as I was going to talk about personal growth and what books you might be reading.
What's the saying, "Great Minds!"
I have read many personal growth books since I have been an entrepreneur for 11 years.
"Rich Dad Poor Dad" is the book I chose to do this review on.
Rich Dad Poor Dad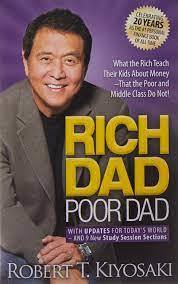 This book was introduced to me a few years ago. I had heard the name Robert Kiyosaki as some friends were being mentored by him. He sounded impressive. I liked what my friends talked about that he said. Not knowing that he wrote the book "Rich Dad Poor Dad" at the time.
As my journey started as an entrepreneur, a book that was talked about was "Think and Grow Rich" by Napolean Hill. My upline recommended it. Being a new entrepreneur I was willing to listen to and get suggestions from those that have been in business longer than myself. So, I got the book.
Now mind you I had just stepped out of the medical field as an R.N. Entrepreneurial type books were not recommended as medical readings were.
Oh my golly, I started reading "Think and Grow Rich" and struggled. Every day I forced myself to read at least 10 pages. I would pick different times during the day to read. My thinking was maybe I'm too tired or not awake enough to understand and try and enjoy this book.
Nope nothing worked. I just can't digest this book. Mostly because I really didn't understand what he was writing about. It just didn't make sense to me. I actually stopped reading. I felt I was not getting anything out of it and wasting time trying.
So when "Rich Dad Poor Dad" kept coming up as a book to read, I just thought of my experience of Napolean Hill's book. I would take a deep breath and just park that thought in the back of my mind.
Now moving forward in my being an entrepreneur and reading many personal growth books I still wasn't entertaining the thought of reading Robert Kiyosaki's book.
My husband and I were on vacation and had done a little shopping. There was a book store, Barnes and Noble, that we stopped in. I love books especially new books. So, I was just browsing, yes, in the personal growth books section. Wondering if anything might catch my eye.
Jim was ready to go and I turned to leave and there was a whole long shelf staring right at me! I had to walk towards it just to get out. Oh, sorry I didn't tell you what book, yes the whole long and high shelf was nothing but "Rich Dad Poor Dad"!!!
I don't believe in chance or fate or coincidence! That was my answer bigger than anything. The next book I am suppose to read. I bit the bullet and thought "ok I will get this one."
There were big ones, little ones, hardback and paperback. I chose the paperback. After all, I didn't want to spend a lot of money and have a big hardback if I couldn't get through this book!
To my surprise, I started reading and actually couldn't put the book down. I enjoyed this book.
Probably for several reasons, one I had been an entrepreneur now for 11 years and two it was his personal story.
I not only understood more about having my own business but I could relate to his story. It made sense that, for me, he was putting it in terms I could understand about business and life.
Yes, I finished that book and was kind of sad. It felt a little bit like leaving a friend.
Guess what book I recommend if a friend in business asks!?
Now To Start Again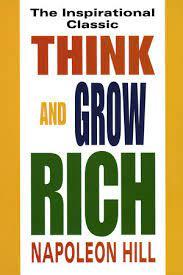 So, I believe I might have enough "business sense" to pick up my book of "Think and Grow Rich" and give it another try.
As I looked at it, I did get almost half way through the book many years ago. Yes, my bookmark was still in the book.
If you have a book that you just can't get through, put it down and come back to it even if it is years later. You have grown since you first tried reading it. Hopefully, you have been reading other personal growth books in between.
Here's to your Happy Reading!!
To Your Success,
Deb