The question has been posed, do I work or not work on the weekend?
My week starts on Monday like everyone else. I am up early and workout. When I get home from the gym I say my prayers and affirmations.
Actually, this is how Monday through Sunday starts. After that each day is a little different depending on what needs to get accomplished.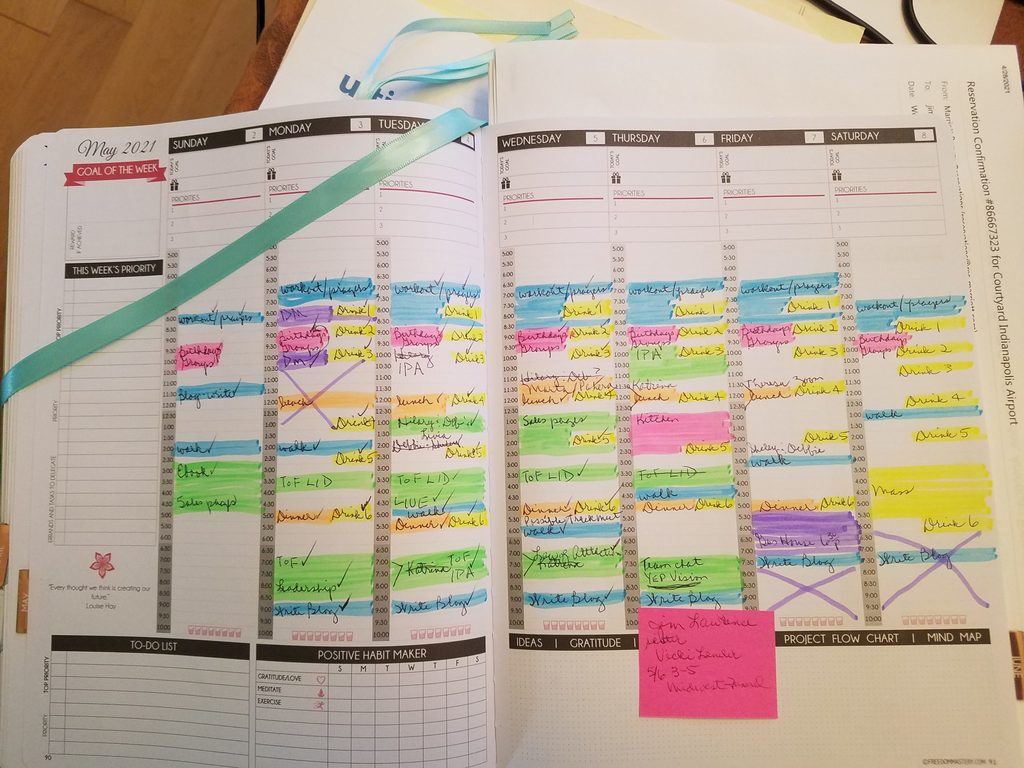 This is what usually my week looks like. Each color represents a different activity that I need to get done. I have personal and business scheduled.
The white spaces can be for a team member that needs to chat. I can tell them when I am available. This allows me to continue with my day and not get side tracked.
Before I would stop what I was doing and then talk with a team member. This method totally got me side swiped. It didn't take long before my day was done and I didn't get everything accomplished for that day.
My mentor told me what she does. She stated she tells her team member when they reach out when she is available to chat. It made total sense to me. So this way I have time for my team. By letting them know when I can talk or zoom, it seems to calm them that we will connect sometime that day.
The answer of working, I plan Monday through Saturday. I try really hard not to work on Sunday. This seems to give me some space to recoup from the week.
Usually Sunday evening, I have my calendar and am scheduling my week personal first and then what meetings, LIVEs, IPAs, zooms I know I have as scheduled times.
I didn't use to schedule personal time whether for me, workouts and prayers, or laundry, dusting, mopping and whatever else needs to get done around the house. Oh and showering too! These kinds of things get scheduled now as my business has gotten busier. The house was being neglected. This time doing chores helps me clear my mind especially if something for business is not flowing well, mostly computer work.
So to answer the question do I work weekends or not, I will work at least some of Saturday. Sundays I really do try to not plan any work whatsoever. You've heard the saying, "the best laid plans". Yes, some Sundays there is work especially if I'm in a blog challenge and haven't gotten a blog written for Sunday!!
To Your Success,
Deb